Posts for: February, 2020
By Dental South
February 17, 2020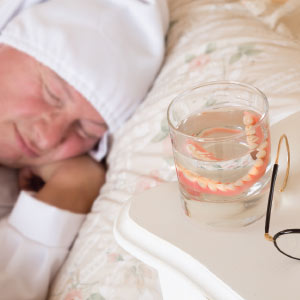 Maybe you don't like to be without teeth — ever. Or maybe you get a little forgetful sometimes. Whatever the reason, if you're wearing your dentures to bed at night, we have one message for you: Please stop!
Sleeping in dentures can have serious health consequences. A recent study published in the Journal of Dental Research found that nursing home residents who wore their dentures to sleep were 2.3 times more likely to be hospitalized or even die of pneumonia as those who did not sleep in dentures. But how can wearing dentures at night more than double your chances of getting a lung infection?
As the study noted, pneumonia-causing bacteria can readily be moved from the mouth to the lungs simply by breathing. And dentures that are not removed at night can become breeding grounds for all kind of bacteria and fungi (such as yeast). That's what makes them potentially dangerous.
Another condition often seen in people who wear upper dentures continually is called denture stomatitis, which is characterized by a red, inflamed palate (roof of the mouth) that has been infected with yeast. The yeast microorganisms can also infect cracked corners of the mouth, a condition known as angular cheilitis. Moreover, it has also been shown that people who sleep in dentures have higher blood levels of a protein called interleukin 6, which indicates that the body is fighting an infection. Need we go on?
Wearing dentures is supposed to improve your quality of life, not reduce it. So promote good health by taking your dentures out at night, and sticking to a good daily oral hygiene routine:
Remove and rinse your dentures after every meal.
Brush your dentures at least once a day with a soft toothbrush or denture brush and dish soap, liquid antibacterial soap, or denture cleanser (but don't use toothpaste — it is too abrasive).
Store your dentures in water or a solution made for this purpose.
Brush your gums and tongue every day with a soft toothbrush (not the same one you clean your dentures with).
Rinse your dentures in clean water before you put them back in your mouth.
If you would like any more information on dentures and oral hygiene, please contact us or schedule an appointment for a consultation.
By Dental South
February 07, 2020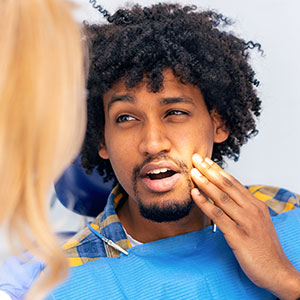 If you have tooth pain, we want to know about it. No, really—we want to know all about it. Is the pain sharp or dull? Is it emanating from one tooth or more generally? Is it constant, intermittent or only when you bite down?
Dentists ask questions like these because there are multiple causes for tooth pain with different treatment requirements. The more accurate the diagnosis, the quicker and more successful your treatment will be.
Here are 3 different examples of tooth pain, along with their possible causes and treatments.
Tooth sensitivity. If you feel a quick jolt of pain when you eat or drink something hot or cold, it may mean your gums have drawn back (receded) from your teeth to leave more sensitive areas exposed. Gum recession is most often caused by gum disease, which we can treat by removing dental plaque, the main cause for the infection. In mild cases the gums may recover after treatment, but more advanced recession may require grafting surgery.
Dull ache around upper teeth. This type of pain might actually be a sinus problem, not a dental one. The upper back teeth share some of the same nerves as the sinus cavity just above them. See your dentist first to rule out deep decay or a tooth grinding habit putting too much pressure on the teeth. If your dentist rules out an oral cause, you may need to see your family physician to check for a sinus infection.
Constant sharp pain. A throbbing pain seeming to come from one tooth may be a sign the tooth's central pulp layer has become decayed. The resulting infection is attacking the pulp's nerves, which is causing the excruciating pain. Advanced decay of this sort requires a root canal treatment to remove the diseased tissue and fill the empty pulp chamber and root canals to prevent further infection. See your dentist even if the pain stops—the infection may have only killed the nerves, but is still present and advancing.
Pain is the body's warning system—so heed the tooth pain alert and see your dentist as soon as possible. The sooner the problem is identified and treated, the better your chances of returning to full dental health.
If you would like more information on tooth pain and what it means, please contact us or schedule an appointment for a consultation. You can also learn more about this topic by reading the Dear Doctor magazine article "Tooth Pain? Don't Wait!"