Posts for tag: dental implants
By Dental South
November 24, 2018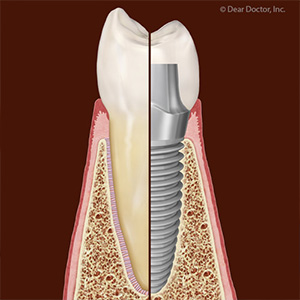 There are several reasons why dental implants are so popular. Perhaps the most important, though, is their longevity: if maintained properly implants can last for decades. However, they're not indestructible—certain mouth conditions could put them at risk for early failure. But if you address emerging problems early, you may be able to prevent that unfortunate outcome.
Your implants may be in danger, for example, if you have a teeth grinding or clenching habit. This occurs when a person involuntarily and repeatedly bites down on their teeth when not chewing or speaking. Usually triggered in adults by high stress, teeth grinding can subject both natural teeth and implants to damaging levels of force. Over time this can cause bone loss around an implant and weaken their support. It could also cause a direct break in an implant.
But there are ways to stop or at least reduce the effects of teeth grinding. One effective way is a custom-made bite guard you wear while you sleep. Made of hard plastic, the guard prevents the teeth from making solid contact with each other, reducing the amount of force generated.
A more prominent problem is periodontal (gum) disease, a bacterial infection caused by built-up dental plaque on tooth surfaces. This can trigger inflammation, a normal defensive response that when it persists for an extended period of time can damage tissues and supporting bone. It can also cause a specific form of gum disease related to implants called peri-implantitis, in which the tissues that support an implant become infected and weaken, leading eventually to possible implant failure.
If you have implants, then, you should brush and floss daily to prevent gum disease, as well as see your dentist at least every six months for cleanings and checkups. And if you notice anything like reddened, swollen or bleeding gums, see your dentist immediately. The sooner you undergo treatment, the better the outcome for your implants as well as your overall health.
Dental implants can give you years of great service and can prove to be well worth the cost. But you'll have to stay on your guard against gum disease and other mouth conditions that could endanger them down the road.
If you would like more information on dental implants, please contact us or schedule an appointment for a consultation. You can also learn more about this topic by reading the Dear Doctor magazine article "Dental Implants: A Tooth-Replacement Method that Rarely Fails."
By Dental South
April 28, 2018
There are plenty of good reasons to quit smoking. Here's one more if you're considering replacing a missing tooth with a dental implant: smoking increases your risk of implant failure.
By and large, dental implants are the most reliable and durable tooth replacement option, with more than a 95% success rate after ten years. But that still leaves a small percentage that fail — and twice as many of those failures are in smokers than in non-smokers.
To understand why, we need to look at how smoking affects oral health. Besides burning and thickening the surface skin cells inside the mouth, inhaled smoke can also damage salivary glands and lead to dry mouth. Reduced saliva creates an environment friendly to bacteria, which increases the risk of infection and disease.
The nicotine in tobacco also restricts the myriad of blood vessels that course through the teeth and gums. The resulting reduced blood flow deprives teeth and gums not only of nutrients but disease-fighting antibodies. The mouth takes longer to heal and can't fight infection as well.
The key to an implant's success lies with its titanium post imbedded in the jaw bone to take the place of the tooth root. Titanium attracts bone cells, which grow and adhere to the post over a period of time and create a stronger hold. But the health effects of smoking inhibit this process. Furthermore, slower healing caused by smoking increases the risk of infection, the number one cause of early implant loss.
If you want to improve your chances for a successful implant — not to mention improve your overall health — you should quit smoking. The prospect of a dental implant could be a useful incentive to enroll in a smoking cessation program.
At the very least we suggest you stop smoking a week before implant surgery and then for at least two weeks after to help promote good healing. And you should pay close attention to your daily oral hygiene — brushing and flossing at least once — and regular, semi-annual dental visits for cleanings and checkups.
Smoking can harm your health. If you're considering an implant, it could also harm your chances of a successful outcome.
If you would like more information on dental implants, please contact us or schedule an appointment for a consultation. You can also learn more about this topic by reading the Dear Doctor magazine article "Dental Implants & Smoking."
By Dental South
April 03, 2018
If you've had the misfortune of losing all or most of your teeth (a condition called edentulism), you still have effective options for restoring lost form and function to your mouth. There is, of course, the traditional removable denture that's been the mainstay for edentulism treatment for decades. If you haven't experienced significant bone loss in the jaw, though, a fixed bridge supported by titanium implants could be a better choice.
But what if bone loss has ruled out an implant-supported fixed bridge? There's still another option besides traditional dentures — a removable "overdenture" that fits "over" smaller diameter implants strategically placed in the jaw to support it.
A removable, implant-supported bridge offers a number of advantages for edentulism patients with significant bone loss.
Speech Enhancement. Any denture or bridge supported by implants will have a positive impact on speech ability, especially involving the upper jaw. But patients who've previously worn removable dentures may not see a dramatic difference but will still be able to benefit from the greater stability of the denture, particularly if the dentures were previously unstable.
Hygiene. A removable denture allows better access to implant sites for cleaning. Better hygiene reduces the risk of gum disease and further bone loss.
Long-Term Maintenance. Regardless of which type of implant supported restoration is used, it will eventually require some maintenance. A well-designed removable overdenture can make any future maintenance easier to perform.
Aesthetics. For personal satisfaction, this is often the ultimate test — how will I look? As a product of the evolving art of facial aesthetics, removable dentures supported by implants can replace lost tissues and restore balance to the face, and often produce a remarkable smile "makeover."
To find out which restoration option is best for you, you should first undergo a thorough examination to determine the status of your facial and jaw structures, particularly the amount of bone mass still present. Ultimately, though, the decision should be the one that best fits your functional needs, while fulfilling your desires for your future smile.
If you would like more information on tooth restoration options, please contact us or schedule an appointment for a consultation. You can also learn more about this topic by reading the Dear Doctor magazine article "Fixed vs. Removable: Choosing Between a Removable Bridge and a Fixed Bridge."