Posts for tag: pediatric dentistry
By Dental South
August 25, 2020
For a lifetime of healthy teeth and gums, it takes a lifetime of personal and professional care. Starting your child's daily hygiene with the first tooth eruption is a must; but you should also consider beginning regular dental visits in their early years, around or before their first birthday.
There's evidence that early dental visits hold a number of benefits that could lead to reduced oral care costs over their lifetime.
Familiarity with professional dental care. Children need to feel comfortable and safe in their surroundings, especially new places. Beginning dental visits early improves the chances your child will view the dentist's office as a regular part of their life. It's especially helpful if the dental professional has training and experience with young children to put them at ease.
Early monitoring for dental disease or other problems. A young child's teeth are highly susceptible to tooth decay. Dental visits that begin early in a child's life increase our chances of detecting any developing dental problems early. In addition to treating decayed teeth, your child may also need preventative actions like sealants or additional fluoride applications to protect teeth if they are at a higher risk for disease. As the child develops, we may also be able to catch early bite problems: with interventional treatment, it may be possible to reduce future orthodontic costs.
Parental help and support. As we discuss your child's dental care with you, we'll be able to provide essential information and training for how to care for their teeth and gums at home. We'll also be able to ease any common concerns you may have, such as thumb sucking or other oral habits, as well as give you sound advice and techniques for dealing with these problems.
As with other areas of childhood development, starting off on the right foot with oral care can make all the difference to their future dental health. The sooner you begin regular dental visits with your toddler, the better their chances for a lifetime of healthy teeth and gums.
If you would like more information on dental care for children, please contact us or schedule an appointment for a consultation. You can also learn more about this topic by reading the Dear Doctor magazine article "Taking the Stress out of Dentistry for Kids."
By Dental South
August 05, 2020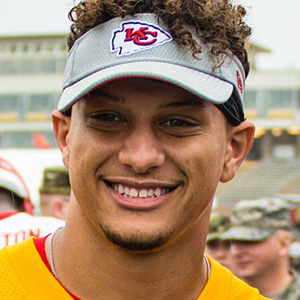 Kids get pretty inventive pulling a loose primary (baby) tooth. After all, there's a profit motive involved (aka the Tooth Fairy). But a young Kansas City Chiefs fan may have topped his peers with his method, revealed in a recent Twitter video that went viral.
Inspired by all-star KC quarterback Patrick Mahomes (and sporting his #15 jersey), 7-year-old Jensen Palmer tied his loose tooth to a football with a line of string. Then, announcing "This is how an MVP gets their tooth out," the next-gen QB sent the ball flying, with the tooth tailing close behind.
It appears young Palmer was no worse for wear with his tooth removal technique. But if you're thinking there might be a less risky, and less dramatic, way to remove a loose tooth, you're right. The first thing you should know, though: Primary teeth come out when they're good and ready, and that's important. Primary teeth play an important role in a child's current dental and speech function and their future dental development. For the latter, they serve as placeholders for permanent teeth developing within the gums. If one is lost prematurely, the corresponding permanent tooth might erupt out of position and cause bite problems.
In normal development, though, a primary tooth coming out coincides closely with the linked permanent tooth coming in. When it's time, the primary tooth lets you know by becoming quite loose in the socket.
If you think one of your children's primary teeth is ready, clean your hands first with soap and water. Then using a clean tissue, you should be able to easily wiggle the tooth with little tension. Grasp the tooth with the tissue and give it a little horizontal twist to pop it out. If that doesn't work, wait a day or two before trying again. If it does come out, be sure you have some clean gauze handy in case of bleeding from the empty socket.
Normally, nature takes its course from this point. But be on the lookout for abnormal signs like fragments of the tooth left behind in the socket (not to be mistaken for the top of the permanent tooth coming in). You should also look for redness, swelling or complaints of pain the following day—signs of possible infection. If you see anything like this, make a prompt appointment so we can take a look. Losing a primary tooth is a signpost pointing the way from childhood to adulthood (not to mention a windfall for kids under their pillows). You can help make it a smooth transition—no forward pass required.
If you would like more information about caring for primary teeth, please contact us or schedule a consultation. To learn more, read the Dear Doctor magazine articles "Importance of Baby Teeth" and "Losing a Baby Tooth."
By Dental South
April 17, 2020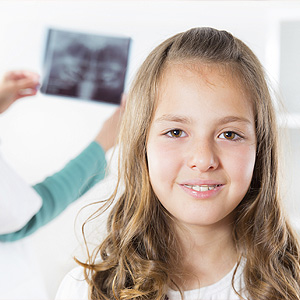 It's important for your child's current and future health that we watch out for tooth decay. Taking x-rays is a critical part of staying one step ahead of this common disease.
But while x-ray imaging is commonplace, we can't forget it's still a form of radiation that could be potentially harmful, especially for a child whose tissues are rapidly developing. We must, therefore, carefully weigh the potential benefits against risk.
This concern has given birth to an important principle in the use of x-rays known as ALARA, an acronym for "As Low As Reasonably Achievable." In basic terms, we want to use the lowest amount of x-ray energy for the shortest period of time to gain the most effectiveness in diagnosing tooth decay and other conditions.
A good example of this principle is a common type of radiograph known as a bitewing. The exposable x-ray film is attached to a plastic devise that looks like a wing; the patient bites down on it to hold it in place while the x-ray exposure takes place. Depending on the number of teeth in a child's mouth, an appointment usually involves 2 to 4 films, and children are typically spaced at six months apart. Frequency of x-rays depends on your child's tooth decay risk: lower risk, less need for frequent intervals.
Each bitewing exposes the child to 2 microsieverts, the standard unit for radiation measurement. This amount of radiation is relatively low: by contrast, we're all exposed to 10 microsieverts of background radiation (natural radiation occurring in the environment) every day or 3,600 microsieverts annually. Even two appointments of four bitewings each year is a fraction of a percent of the background radiation we're exposed to in the same year.
This conservative use of x-rays is well within safe parameters for children. As x-ray technology continues to advance (as with the development of digital imaging) we anticipate the exposure rate to diminish even more. Prudently used, x-rays remain one of our best tools for ensuring your child's teeth are healthy and developing normally.
If you would like more information on the use of x-rays with children, please contact us or schedule an appointment for a consultation. You can also learn more about this topic by reading the Dear Doctor magazine article "X-Ray Safety for Children."